TRIATHLON TRAINING- WEEKLY UPDATE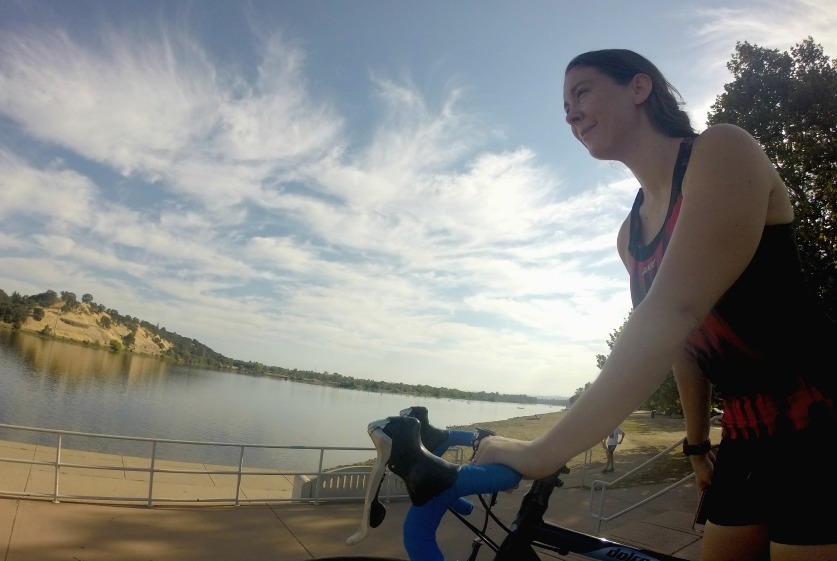 Lots of fun and lot of miles this week while training for my triathlon!
The training program I'm following has cycles to it. Basically you build up your mileage volume over the course of a few weeks, and then you have a recovery week.
This past week was the peak of one of those cycles. That means I did a 14-mile run one day and two 60-mile bike rides.
Everything was great, but as I head into Friday I'm definitely feeling a little more tired than normal.
But that's a good thing.
The goal is to build up endurance and then give the body a week to recover with lighter mileage in all three sports.
And that all syncs up perfectly because next Sunday is my first triathlon!
That means this coming week I'll be really cutting back the training so I'm fresh for the race.
Here is a recap of my training from Saturday, July 22nd to Friday, July 28th
Saturday
Run: 10k run (so 6.2 miles) at race pace.
Bike: 30-mile bike ride.
Sunday
Bike: 60-mile bike ride.
Monday
Swim: 1,500-meter swim in the morning in the lap pool. Open water swimming clinic for an hour and half after work. We swam about two miles total, with breaks for technique guidance from the coach.
Run: 7-miles (1-mile easy warmup, then .75-miles hard and .25-miles easy- alternating for five miles, then 1-mile easy cool down).
Tuesday
Run: 14-miles at a moderate pace.
Wednesday
Swim: 2,200-yards total. (Main set: two x 300-yards at race pace, RI = 30 seconds) and open water swim clinic in the evening. This was more drills than on Monday. Likely a mile and half total.
Bike: 90-minutes (about 20-miles).
Thursday
Strength Training: ProCity Fitness (a strength and conditioning class).
Bike: 90-minutes, with four hard intervals of 4-minutes (about 20-miles).
Friday
Bike: 60-miles
Highlights
I feel so much better about swimming in open water. I stuck with the intermediate/advanced group on Monday and Wednesday at the open water swim clinic.
Calming down and learning to breath really does make a difference. While I still have plenty to learn, I feel good about being able to swim the .93-miles for the Folsom Triathlon.
Challenges
A little more tired than normal at work, but otherwise I was feeling good! All the workouts were a fun challenge.
For the open water swim, I am struggling with breathing on my left side. I always breath on my right, and it's important to feel comfortable with breathing on both sides.
From what I have learned, there are two reasons for this:
First, always turning you head one way over and over isn't good for your neck, shoulder or back.
Second, if you are doing an open water swim and waves are coming at you from the right side, you better be able to turn your head to left to breath!
Up next
This weekend we are moving my stepdaughter back to college for her sophomore year. We'll driving a UHaul to Southern California for about 8 hours on Saturday.
Fortunately we aren't leaving until about 11, so I'll be able to attend a cycling class I signed up for a few weeks back. The class will focus on skills, so I'm sure the millage will be minimum, but the lessons are much needed.
On Sunday I'll run 6-miles. Hopefully our hotel is by a nice and safe running path, but if not, I'll hit the treadmill.
I hope everyone had a wonderful week and here's to Friday!!