TRIATHLON TRAINING- WEEKLY UPDATE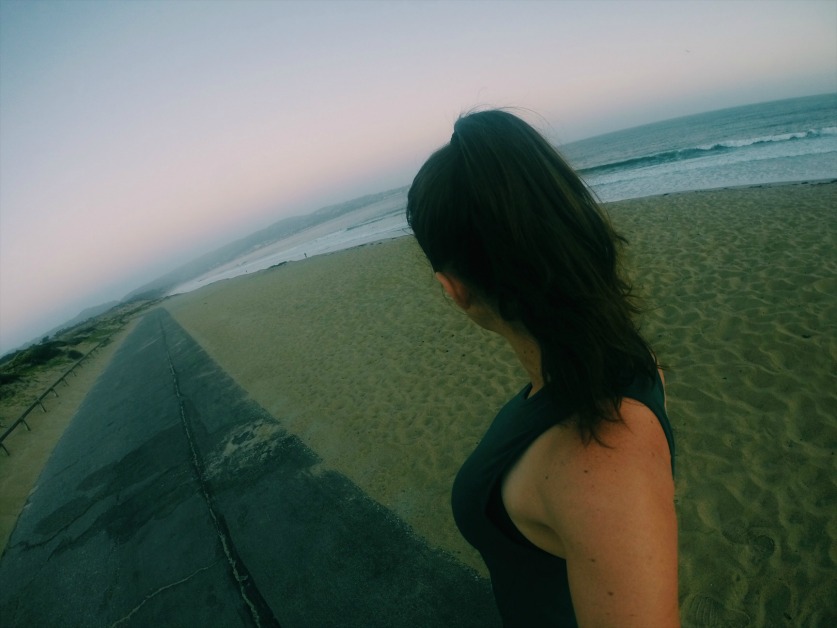 Here is a recap of my training from Saturday, July 15th to Friday, July 21st
Saturday
This week's triathlon training was, in a word- humbling.
Learning two completely new sports is no easy task. At least I'm never bored, but I do often wonder if I'm crazy.
Last week, swimming was the star. I went to my first open water swim class, and even bought a wetsuit.
This week, I kind of want to break up with swimming.
Needless to say, we have a very rocky relationship.
Since last week's open water swim went well in the beginner group, I opted to move up to the intermediate/advanced group for Wednesday night's swim.
The warm up was a small loop in Folsom Lake and I started out strong. So strong (and a little nervous) that I forgot to breath until I was about 10 strokes into the warm up.
By the time I did come up for air, I was totally out of breath. I panicked and then, as if on cue, my swim cap started to slide off. This pushed my goggles into a funny spot. Things were going down hill fast.
I abandoned the warm up, cut the loop and half swam/half doggy paddled over to the beginners group.
I was embarrassed and disappointed, but I stuck it out, and honestly everyone was so busy trying to listen to teacher they could have cared less that I was back with the beginners.
But I have to say, it was a total blessing.
We had a smaller group of beginners than the previous week. I learned a lot more about basics. And the whole group asked a ton of questions. It was so helpful.
I know one thing I will not do in the future- take off into a swim and forget to breath. Lesson most definitely learned.
Saturday
Bike: 60 miles at moderate pace
Sunday
Run: 12 miles at moderate pace
Monday
Run: 8 miles (1 easy warmup, then .25 hard, .25 easy alternating for 6 miles, then 1 mile easy cool down)
No swim, I was in Monterey for business and per the lifeguard, the ocean water was too rough to swim in!
Tuesday
Bike: 90 mins, with five 3-minute intervals at hard pace over the course of the ride
Wednesday
Swim: 2,000 yards total. (Main set: 2 x 300 yards race pace, RI = 30 seconds) and open water swim clinic in the evening
Run: 6 miles moderate + 4 x 10-second hill sprints.
Thursday
Strength Training: ProCity Fitness (a strength and conditioning class)
Bike: 50 minutes, with six times of 2-mins hard intervals
Friday
Swim: 1,400 yards moderate (Main set: two times 300 yards race pace, RI = 30 seconds)
Run: 6 miles moderate, with four times of 10-second hill sprints.
Highlights
Definitely completing 60 miles on the bike. This was the longest I have ever rode a bike.
I rode on the American River Parkway and was expecting an easy ride from the start of the parkway to the end, and then back.
But I totally spaced and forgot Eppie's Great Race (a Sacramento tradition!) was on Saturday.
It's a modified triathlon (Kayak, Bike, Run) and it closes a good portion of the parkway for the race. I got about 10 miles into my ride and couldn't go any further due to the closure.
I spent the next 50 miles making things up as I went along. It was frustrating at times, but I figured out a way to loop all around Sacramento and get the mileage in, and I'm so glad I did.
I felt so proud when I saw 60.0 on my Garmin.
Another huge highlight, running in Monterey. I was there on Monday for work, so I got up early and went on a run.
The Monterey Bay Coastal Recreational Path is a beautiful path just for joggers, walkers and bikers, no cars. It goes along the coastline and through downtown Monterey. Nothing like running by ocean!!
Challenges
The open water swim. I have to admit, I felt defeated not even making it through the Intermediate/Advanced warm up.
But on a positive note, I learned a ton from my "failure". No matter how nervous I get, I need to remember to breath. Kind of good life lesson in general!
Up next
This weekend I'm going to my first triathlon training camp on Saturday from 8-noon. It's a course preview of the Folsom Triathlon, the race I'll be doing on August 6th.
It's only four hours, but the website says it will cover these things:
– Event training and preparation basics
-How to choose gear that is right for you
-Nutrition for training, racing and recovery
-Open water swim skills (safety, starts, sighting and strategy)
-Race rules, safety and etiquette
-Transition set up for speed and ease
-Bike handling skills (climbing, descending and cornering)
-Tips and tricks that will save you time and effort
-Race day planning, strategy and goal setting
Should be a pretty action packed four hours!
Of course, I'll recap it all in blog post next week.
Happy Friday all!