The Triathlon Clinic that Wasn't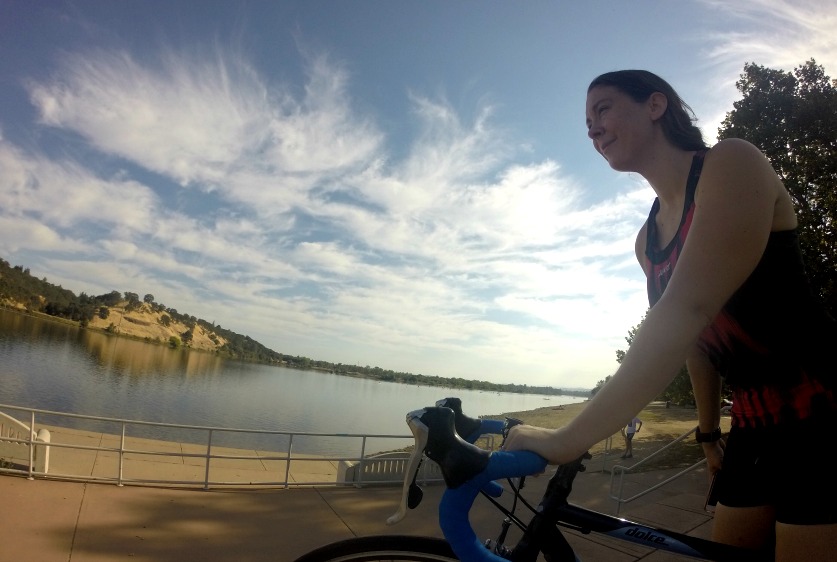 This last Saturday I had planned to do a triathlon clinic in preparation for the Folsom Triathlon, which is about two weeks away.
I was excited, and a little nervous. The night before, I packed the countless things the website suggested participants bring- wetsuit, bike and swim gear, running clothes, the list goes on and on.
On Friday night, I looked for my receipt for the clinic in my email so I would have it with me.
Turns out I forgot to register for the clinic.
I only checked the box that I was interested, but hadn't followed through with the purchase.
But no worries! Registration didn't close until midnight. Thankful that I double-checked, I handled the registration that evening and got my email confirmation.
On Saturday morning, I headed to the Nimbus Flat State Park where the clinic was being held. Things didn't start until 8 a.m., but I'm a fan of getting places early, so I left an hour early. The drive took about 30-minutes and I was at the park by 7:30 a.m.
As I pulled up to the park ranger station, I asked if he knew where the triathlon clinic was meeting.
He hadn't heard that something like that was going on, but he let me know that wasn't out of the norm. He told me the two places most groups meet up, and I headed over to the first spot.
Considering how early it was, the parking lot was almost empty. And there was definitely no clinic going on. No worries I thought, as I headed to the other location the ranger mentioned.
This lot was even emptier than the first. What was I missing?
I parked my car and started walking around. I stopped a few people with bikes or wetsuits.
Were they heading to the clinic? No one knew what I was talking about. They were all there to train on their own.
Two different groups offered to let me train with them for the day. It was so nice and friendly, but I declined. I paid $70 for this clinic and as a triathlon newbie, I needed the training clinic to show me the ins and outs of what to do.
I continued my search for the missing triathlon clinic.
The closer to 8 a.m. it got, the more people I stopped to ask and the more concerned I got. No signs, no group of people, no one had heard of it. Was I even in the right place?
I triple checked the website, my confirmation email, and left a voicemail for the clinic.
Finally at 8:30 a.m. I gave up. I called my husband defeated. I had been on the phone with him a few times during my search and he could hear the sadness in my voice.
He suggested that since I was up there anyway, I still make the most of it.
I had already done a 10k run that morning before I went to the clinic, but I had my bike, so why not go on nice bike ride?
I'll be honest, 99% of me wanted to say forget it.
I was almost in tears and ready for a big brunch to soothe this crappy feeling. I was certain the clinic was going on somewhere, but I just wasn't smart enough to figure out where it was.
Despite all that, I listened to the 1% percent of me that said to make the most of things.
I pulled my bike out of the car and headed out to a nice 30-mile ride.
About 15 minutes in, I got a call on my cell phone.
It was the clinic director, who was full of apologies. No one had registered for the clinic, so he had closed the registration the day before and essentially cancelled the clinic. Due to a technical error on the web site, my registration still came through. He didn't realize the issue until he got my voicemail.
The director could not have been nicer. Of course he refunded me, but also offered to send me all the materials they were going to hand out at the clinic. If I had any questions, he was happy to chat over the phone.
I felt total relief.
I didn't get it wrong, I was in the right place. For someone who deals with a lot of self-doubt and second guessing themselves, this was huge.
I continued my bike ride and got in an amazing workout. The day actually ended up being pretty amazing, despite the change in plans.
The biggest lesson is one I have learned time and time again, but still need to be reminded of constantly-  Make the most out of any situation.
When things don't go as planned, it doesn't mean the experience- or the day!- is "ruined".
Course correct, adapt, and make the most of it.
Dwelling on things that didn't go the way you thought they should rarely (if ever) leads to good stuff flowing your way!