Restaurant Review: Café Gratitude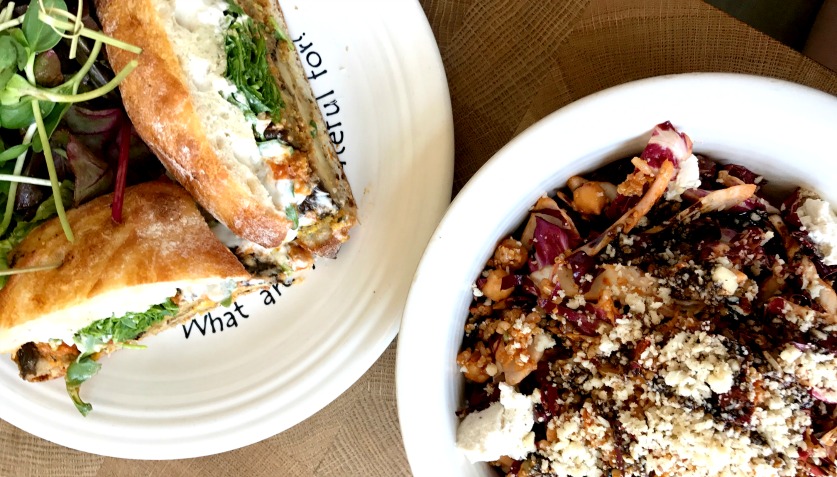 While we were down in San Diego I had the opportunity to eat at Café Gratitude.
I've wanted to check out this place for a while. Some of my favorite Instagrammers including Shut The Kale Up have raved about it.
Fortunately my sister lives right down the street from their San Diego location (currently their only locations are in Southern California), so we headed there for lunch.
First off, you walk into the restaurant and the whole place feels so relaxed and inviting.
Once we were seated our waiter walked over and explained to us the unique way you order at Café Gratitude. You start your order with "I am" and then say the dish you are ordering.
This all makes sense once you see the menu. That's because dishes are named things like "Dynamic" and "Magical".
I know some people are rolling their eyes right now and crossing this place off their "must try" list. But really it's not as corny as it may sound. It's actually pretty fun.
Everything at this restaurant is 100% organic and plant-based.
As their website says, "We strive to create a menu and environment that supports health and sustainability for both our community and the planet."
So while the selection is large, you won't find any meat or dairy.
But honestly the food is so good you won't even miss it.
My sister and I split the Grateful Bowl which is shredded kale, black beans, garlic tahini, with your choice of sprouted probiotic brown rice, quinoa or a mix (we did the mix).
The portion was huge and the perfect amount for two people, or one person plus leftovers for the next day.
My husband had the Awesome which is an eggplant parmesan panini with marinara, cashew ricotta, brazil nut parmesan, wild arugula, slow-fermented ciabatta, mixed greens with fig balsamic vinaigrette. I stole a ¼ of it and it was amazing.
And while we didn't have time for dessert (we were off the airport to pick up my parents!) the options looked really good. I was eyeing the Genuine, which is a chocolate bundt cake or the Lovely, a baked fruit cobbler. Guess I'll just have to go back soon.
So whether you consider yourself a health nut or not, I highly recommend checking out Café Gratitude if you have the opportunity. The food is amazing, the people are kind, and the vibe is on point!