Race Recap- Ironman 70.3 Santa Cruz Part II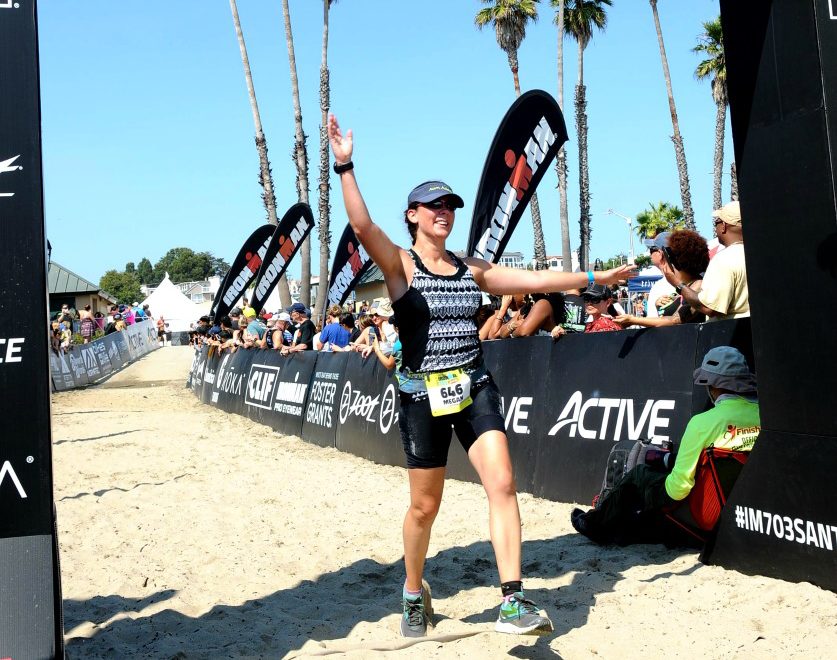 On September 10, 2017, I had an amazing time doing my first Ironman 70.3 in Santa Cruz, California.
In my last post I covered some information about how I trained and what happened the day before the race regarding packet pick up, etc.
As for the actual race… well, besides being amazing, here was my experience on race day.
Quick disclaimer, this was my first Ironman 70.3 and my second triathlon, ever. I'm definitely not writing this from the perspective of a seasoned veteran giving advice.
This recap is good for those interested in doing the Santa Cruz race and looking for some details. I hope it's also helpful for those thinking about taking on their first Ironman 70.3.
Morning of the Race
I got up about 4:00 a.m., had a breakfast of a wheat bagel and almond butter, got ready, and did a 20-minute mediation. By 5:00 a.m., my husband and I were out the door and heading over to the transition area.
The transition area opened at 5 a.m. and I got there about 5:15. I set up all my stuff, wiped off my bike seat which was wet with dew (I had to check my bike in the day before), and pumped up my bike tires.
It was a little cold that morning, so I was wearing my Zoot tri-suit and a zip up hoody with zipper pockets. This was key! The zipper pockets made it so easy to put things in my pockets like a gel, my swim cap, etc. and not worry about them falling out.
I also wore my headlamp that I use for early morning runs. This was so helpful! The transition area was super dark. It's so much easier to have a headlamp instead of trying to use the flashlight on your phone.
After I was all set up, I grabbed my wetsuit, cap, timing ankle bracelet, my old running shoes to put by the post swim transition, a Stinger waffle, a gel, and then headed down to beach.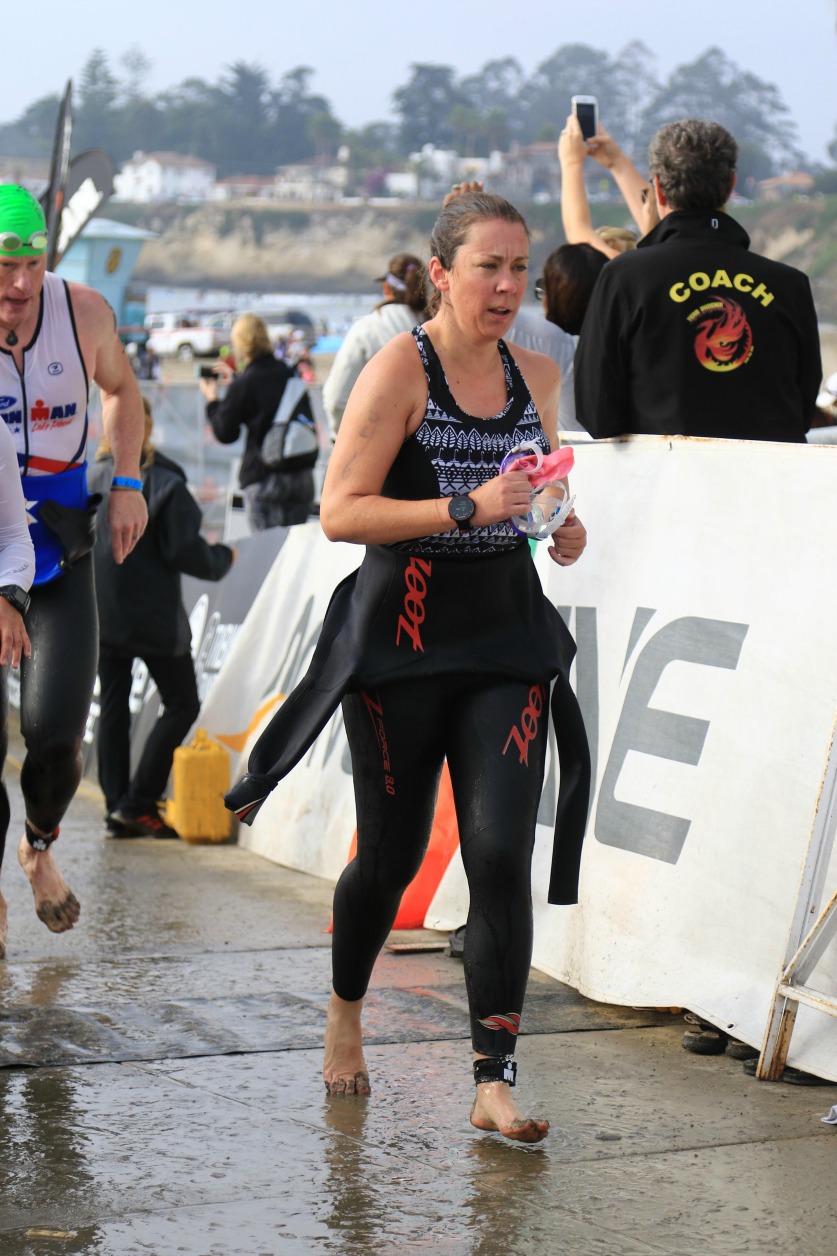 The Swim
First I found a good place for my shoes. I placed them in the swim exit shoot. As I mentioned in my previous post, this makes the half mile run between the swim exit and the transition area a lot more comfortable! I also put my Stinger Waffle in my shoe so I'd have it ready to go after the swim.
Then my husband helped me get into my wetsuit, I took in a gel, and I went into the ocean for a little warm up swim, just about 30-minutes before the 7:00 a.m. start.
But as is the case with most any race, things didn't go exactly as planned.
The fog was really thick that morning and it was hard to see a few hundred feet ahead. So the race was delayed as we waited for the fog to clear.
After about 30-minutes, they decided to move the swim start from in front of the Boardwalk (we were going to swim around the Santa Cruz pier) to a simple half circle formed with buoys to the west of the pier.
This shortened the swim from 1.2 miles to about 0.75 miles.
Some people were upset, some were relieved, and some just wanted to get started.
I was just thankful that we were able to swim. If they had cancelled the swim all together I definitely wouldn't have felt like I did a half Ironman. Shortening the swim, but still having it, still made it feel legit to me.
I also heard that they lengthened the bike portion of the race a bit, so the race still remained a 70.3. Good enough for me!
Because the swim was altered, it was very easy. The water was warm, likely 60-65 degrees F, so it felt very comfortable in a wetsuit. The loop was well-marked with bright buoys and by the time we started the fog had lifted quite a bit.
It was also great because while we kept the buoys to our right, all the volunteers on kayaks lined our left side. They gave us plenty of space, so I never felt crowded, but it was nice to know you couldn't swim too far off course.
Santa Cruz was a self-selected rolling start. I seeded myself towards the back because the swim is my weakest leg of a triathlon. It took quite a while for us to get down to ocean because of the altered start time and place. By the time I finally got into the water, it was close to 8:45 a.m.
But all the changes in the beginning actually calmed my nerves. I met some really nice ladies in line and we talked for about 30-minutes while waiting to get in the water. We all agreed that we were just excited to finally start and any nerves had turned to excitement.
My swim felt great. I never had anyone swim over me, grab my ankle, or anything of the sort. It was actually really enjoyable. And it was quick. The swim took me 17-minutes and 12-seconds.
Transition One
After I exited the ocean I saw my husband, called his name, and he cheered me on. I scurried over to my shoes and he was able to talk to me from the other side of the race guard.
He gave me some sweet words of encouragement, I gave him a kiss and off I ran, wetsuit half on, in my running shoes, eating my waffle.
The run was nice and easy, but I did feel for all those people delicately trying to run in bare feet. No fun!
The transition was simple. I got my wetsuit off, put on my helmet, glasses, stuffed another waffles into the back of tri-shirt, got my socks and shoes on, and off I went.
The Bike
The bike ride was beautiful. For a very short time, approximately four miles, you are in town. The rest of the course is on Highway 1.
Highway 1 is a lot of rolling hills. I thought all the hills were very manageable. I passed quite a few people on the up hills and I was a passed a lot on the downhills. I'm still building up my confidence on the bike, but I think that will just come with time.
The course wasn't very technical, aside from the hills. If you are comfortable shifting gears you won't struggle. It's pretty much a straight shot. I'd bunch with other cyclist at times, but there was plenty of room for passing.
The highway isn't closed to cars, so you do have to be mindful of traffic at all times. However, there were plenty of signs notifying drivers of the race, and so many of us out there, everyone was very cautious. It was much safer than a normal ride with cars around you.
I didn't take anything from the aid stations, but many did. There was water, Gatorade, energy bars, and fruit. They also had port-a-potties at the aid stations.
I was fine with what I had brought for nutrition and hydration, so no need to stop.
I had two water bottles on my bike with Nuun tabs in each and I had brought four Stinger Waffles. For the waffles, I broke each one into bit size pieces and put them into separate zip lock bags the night before. I put all four of the baggies in the pockets in the back of my shirt. This made eating so much easier. I didn't have to mess with the packaging etc. I took in a waffle about every 45 minutes.
And while the bike ride did seem long at times, it was beautiful and fun. I started the bike a little after 9 a.m. and completed the course in 3 hours and 21 minutes. My average pace was 16,65 miles per hour.
Transition Two
Transition two was really simple. I basically switched out my bike shoes for running shoes, my helmet for my visor, and  grabbed my race belt (the one with your bib number) and my running belt (with my gels, tissues, chapstick ,and water bottle) and off I went.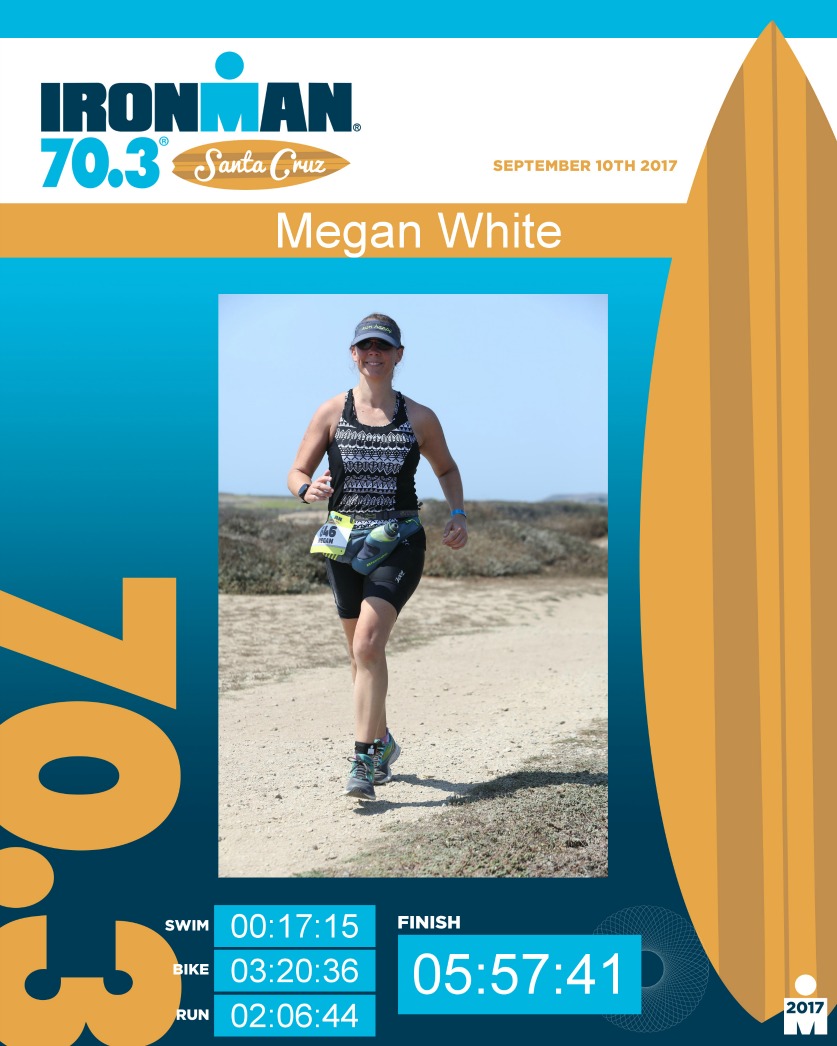 The Run
The run is the leg of the race I'm most comfortable with, and it definitely showed. I had the biggest smile as I started the run because I knew I could make it through this portion assuming nothing crazy happened.
For anyone who has run the Santa Cruz half-marathon, this is basically the same course. You run through town for a bit, then on a running path tucked out of the way, then just a dirt path, but it goes by the ocean and then back into town for the last few miles.
There were aid stations at every mile, which was great. Each of them had water and Gatorade, and most had things like fruit, energy bars, cookies, and ice. Many also had port-a-potties.
I brought my own nutrition and took in a gel about every 45-minutes. While I had my own water for the run, I used the water at the aid stations, too. By this part of the day the weather was getting a little toasty. Not nearly as bad as what I'm use to in Sacramento, but it wasn't cloudy at all, so the sun was a little strong.
The run was beautiful and I was able to gain some time back, after a slower bike ride than many. I started about 12:30 p.m. and it took me 2 hours and 6 minutes. My average pace was 9:53 per mile.
And of course, the best part was turning back into town and starting to see the people cheering on the finishers. My husband was able to track my progress the whole way on both the bike and run thanks to the Ironman free tracking app. So, he knew exactly when I'd be coming down the run shoot.
The last mile or so is all downhill (literally) and then you hit the sandy beach with maybe a 10th of mile left. So many people are cheering, the finish line is right there, and you get to take it all in. I crossed the finish line, heard my name, and then saw my amazing husband with tears in his eye.
It's all a moment I'll never forget.
I loved my first 70.3 experience. I definitely plan to do Santa Cruz again next year. My plan is also to add in the Santa Rosa 70.3 next year, too. It's official, I am hooked on triathlons!