Quinoa, Edamame, Chickpeas, Grapes, & Sunflower Seed Wraps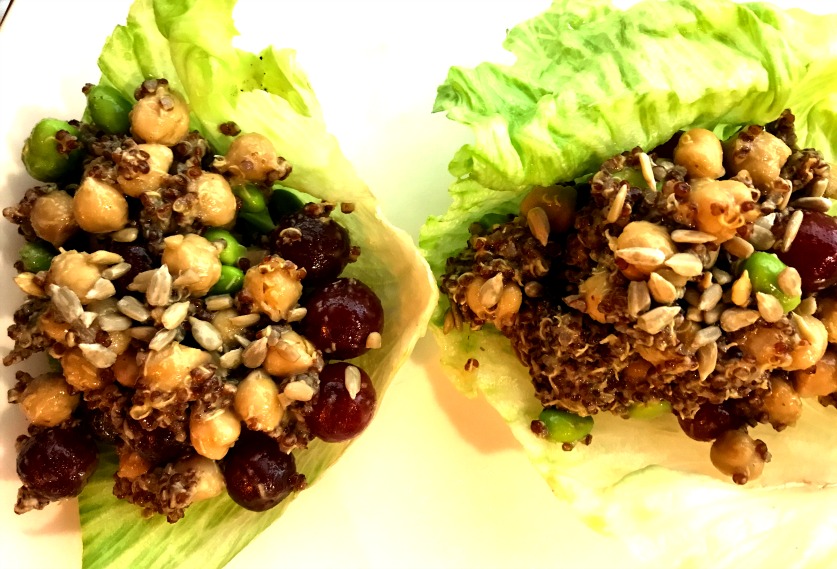 I love quinoa. I think I could eat it at least one meal a day, no problem at all.
My husband doesn't hate it anymore, but he certainly doesn't share my passion for this superfood.
But he does enjoy it more when its flavored it up.
Sometimes I add seasonings, cheese, or low sodium soy sauce.
And now we have something new to add to the mix: Quinoa, Edamame, Chickpeas, Grapes, & Sunflower Seed Wraps.
I know, it's a mouthful (literally and figuratively) but it's also seriously yummy. Plus it's packed with protein, and also vegan. Happy day!
Quinoa, Edamame, Chickpeas, Grapes, & Sunflower Seed Wraps
Ingredients
2 cups cooked quinoa
¾ cup of low sodium chickpeas, drained and rinsed
½ cup of edamame
25-30 red grapes
1 1/2 tbsp shelled sunflower seeds
Butter or romaine lettuce (for the wraps)
Dressing
2 tbsp olive oil
1 tbsp balsamic vinegar
Garlic powder to taste
Pepper to taste
Directions
Cook the quinoa according to the package instructions.
Put the quinoa, chickpeas, edamame, grapes, and sunflower seeds in a large bowl and mix well.
Make the dressing by combining oil, vinegar, garlic powder, and pepper in a small bowl or jar. Mix well.
Pour dressing onto other ingredients and toss to coat.
Scoop into lettuce leaves to make wraps.
Added bonus- this recipe is super versatile.
Don't like edamame? Skip it!
Cutting back on sugar? Leave out the grapes.
Don't like lettuce wraps? Eat it as a salad.
There are lots of ways to make this work for you and your family. This also makes a great side to bring to a potluck.
And the prep time is so minimal, it's easy to throw together at the last minute.
Making the quinoa is the longest part, which pretty much just involves boiling water. I think we can all handle that!
Know of other great quinoa recipes? I'm always on the hunt. Leave your favorites in the comments below!