Monterey Overnight Trip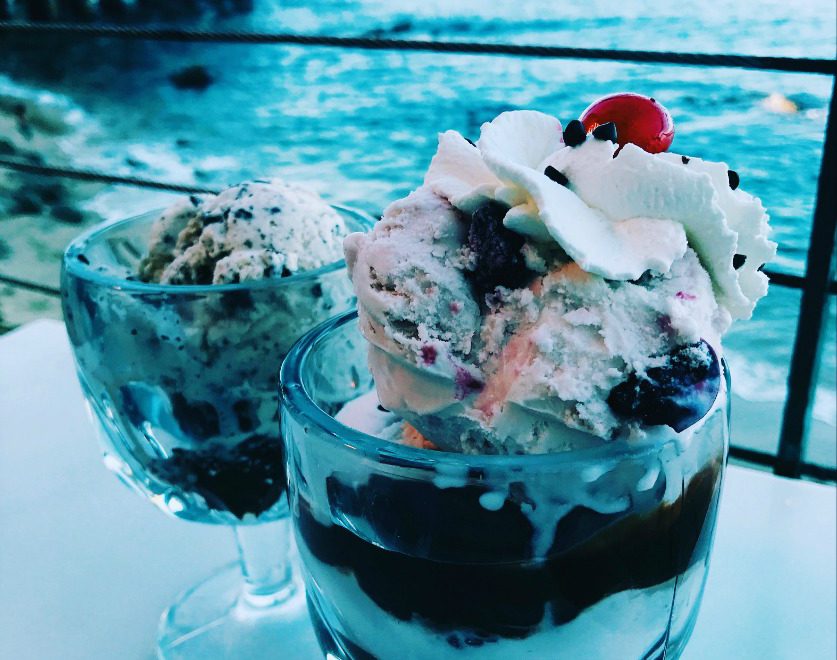 A couple of weeks ago, I went to Monterey for a quick overnight trip.
For those not familiar with this cute seaside community, it's located on California's Central Coast. It's about two hours south of San Francisco, and three hours southwest of Sacramento.
There are so many things to see and do in this town, but here is a quick recap of some of my favorites.
Running
I've mentioned this before, but one of my favorite ways to kick off a vacation day is with a beautiful run in the town I'm visiting.
Of course, this isn't always possible. Sometimes I'm getting in miles on the treadmill in a tiny hotel gym, but whenever possible I like to be outside.
I have to say, next to running in Hawaii, the Monterey Bay Coastal Recreation Trail is my favorite place to run while on vacation. The path is perfectly paved and runs along the coastline.
I generally run about 6 to 10 miles, turning around at the halfway point. My route goes from the small town of Seaside, through Fisherman's Wharf and then Cannery Row, and onto the streets of the cute beachside community of Pacific Grove.
However, if you are looking to log some seriously miles, you can get in way more. The entire path is 18-miles long, from Castroville in the north to Monterey's Cannery Row in the south.
Food
Monterey and seafood go hand in hand. There are countless great restaurants along Cannery Row and Fisherman's Wharf.
One of my favorites is Chart House. It's a higher-end restaurant, although touristy causal dress is completely welcomed. My husband usually wears khakis and a button-down and I usually wear dress.
The restaurant juts out over the water for a beautiful view of much of the Bay and all the food is top notch. I've been a few times and my favorite dish remains the scallops. They also have a wonderful salad bar that has many options and is always so fresh.
It's also a great place to have a larger get-together. My in-law's held their 50th wedding anniversary dinner there a few years ago and we had a wonderful time.
If you are looking for a more touristy/causal place to take the whole family (including young kids), I think it's hard to beat Bubba Gump Shrimp Company.
Named after the famous movie, the restaurant has a really fun décor, good food, and also a great ocean view. Kids can be kids and adults can have a good time trying to recall Forrest Gump movie history as the server stops by to quiz you with trivia. It's also the very first Bubba Gump's, opened in 1996.
Dessert
If you've been reading my blog for a while, you know I like to call out the best places for dessert, aside from best places to eat.
No exception here. And in my mind, there is an easy top pick!
The Ghiradelli Ice Cream & Chocolate Shop on Cannery Row has amazing ice cream and chocolate, but the view is really the best, too. If you are one of the lucky ones that can grab a table on their back balcony, you'll get to enjoy your ice cream sundae overlooking the beautiful rolling waves of Monterey Bay.
Must Stop Shop
There are lots of cute shops along both Cannery Row and Fisherman's Wharf. Many are great places to pick up a fun souvenir, clothes, or home décor.
But if you like to cook and eat, I highly recommend stopping at Monterey's Tasty Olive Bar. This amazing little shop specializes in olive and balsamic oils, along with all other kinds of seasonings.
They carry more than 70 varieties of olive and balsamic oils that are available for tasting. Just find the flavors that sound interesting to you, pour a sample into a tiny tasting cup, and use the mini baguettes to give it a try.
My husband and I found lots of great oils we've never run across before.
From a Cranberry Pear White Balsamic that is great on salads and grilled fruit, to a Wild Fernleaf and Dill Olive Oil that is amazing on fish and chicken.
If you find a few that you love, I highly recommend getting the 6 Petite Bottle Shipper Set. Its six bottles of whatever oils you like the best for $36.00 (in the shop-it's more online). If you want to let the experts do the picking, this set also comes available with their top selling oils.
Can't make it Monterey any time soon? Check out their online shop for many tasty options!
There is so much more to do in Monterey than just the things I've covered.
Of course, if you haven't been to the Monterey Bay Aquarium you have to check it out. You could spend all day in just that one place!
If you are a literary lover, there are countless stops dedicated to the famous author John Steinbeck, who was born in the region. And many of his famous books, including of course Cannery Row, are set in the Monterey region.
Beach and ocean fanatics can hang out on the beautiful beaches, or grab a kayak and paddle around the Bay checking out the sea life. And there is a lot of sea life, from otters and seals, to birds and whales. It's literally an amazing place to just watch the ocean and all that is in it.
No matter what your vacation style, I highly recommend spending some time in Monterey. I know I can't wait to head back soon!