Ironman 70.3 Santa Cruz!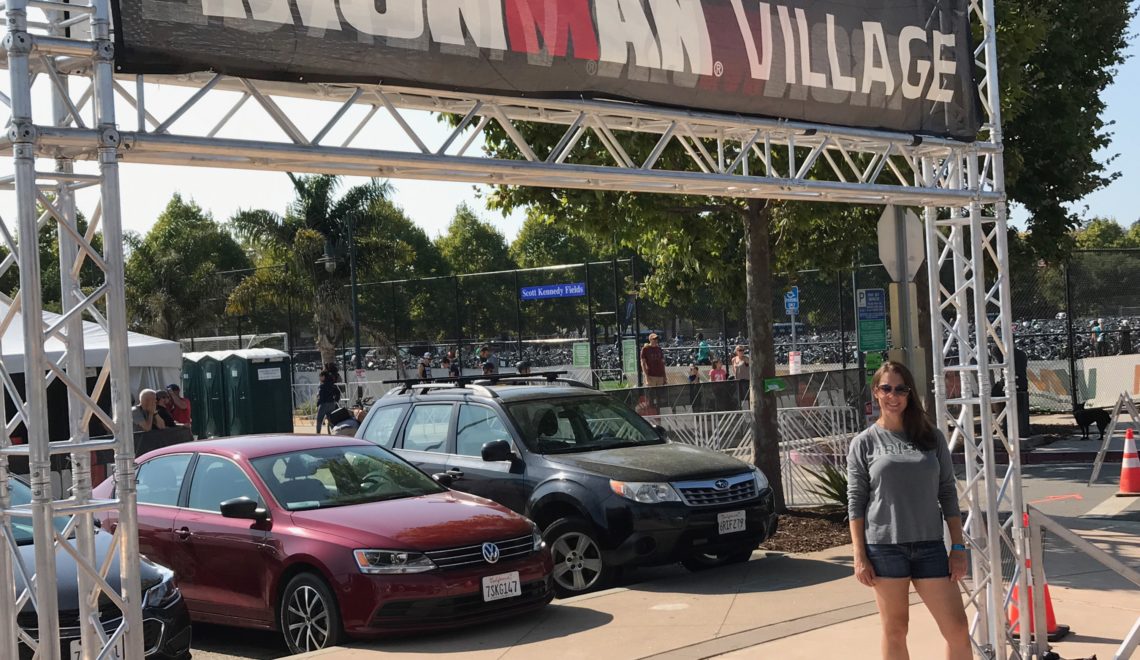 Yesterday I finished my first Ironman 70.3 and it was an amazing experience.
For those not familiar with it, Ironman 70.3 is a triathlon, but on steroids. It's half the distance of a full Ironman, so you swim for 1.2 miles, bike for 56 miles, and run 13.1 miles. And Ironman is the standard by how all triathlons are measured.
After running a marathon in June of this year, I was looking for a new challenge that included more cross training. I was instantly drawn to the idea of doing a triathlon, and after looking around I really wanted to see if I could take on an Ironman 70.3.
Things seemed to fall into place, because the Ironman 70.3 Santa Cruz was September 10th. That gave me three months to train.
And although I felt good about the run, I knew I had a lot to learn and practice when it came to the other two disciplines.
I found an online training program and started following it religiously. I even did quite a few blog and Instagram posts about my training along the way.
I also found an Olympic distance triathlon in Folsom that was a month before Santa Cruz. It seemed like the perfect opportunity to test my skills and still have a month to smooth out things before the 70.3.
Seemed like the perfect plan, right?
Actually the Folsom triathlon was perfect. But not in the way I pictured.
I got into the lake to start the swim of that triathlon and I froze- I literally couldn't swim. I got a DNF (did not finish) and was crushed.
It definitely seemed like Santa Cruz wasn't in the cards.
I wrote about my experience right after that race in this blog post. To summarize, I went to my amazing counselor who suggested maybe my problem wasn't physical, but spiritual.
I had stepped away from my connection with something bigger than me.
And I was so focused on achieving my goal, I missed the joy.
God, Higher Power, The Universe – whatever name you call it – got my attention that day and it shifted everything.
After that race, I stopped posting about all my training efforts.
I didn't know if I was going to do Santa Cruz or not. I figured it wasn't something I needed to worry about. I'd get a sign and until then I'd just focus on my spiritual health above all else.
I no longer stuck to the strict training program. While I still logged plenty of miles on my bike, in the pool, and on my runs, I listened to my body. If a long run didn't feel right, I did a short one. Or if a shorter bike ride wasn't enough and I felt like I could do more, I did.
But the biggest change was what I started doing first thing every morning.
After I get up, now I write in my gratitude journal and meditate for 20 minutes, before I do anything else. Then I do whatever workout I think makes the most sense that morning.
I still work hard on these workouts and they aren't easy, but they are filled with joy.
And this was the training that took me through the month leading up to Santa Cruz.
I truly believe that is why I crossed the finish line yesterday with the biggest smile on my face after having one of most amazing experiences of my life.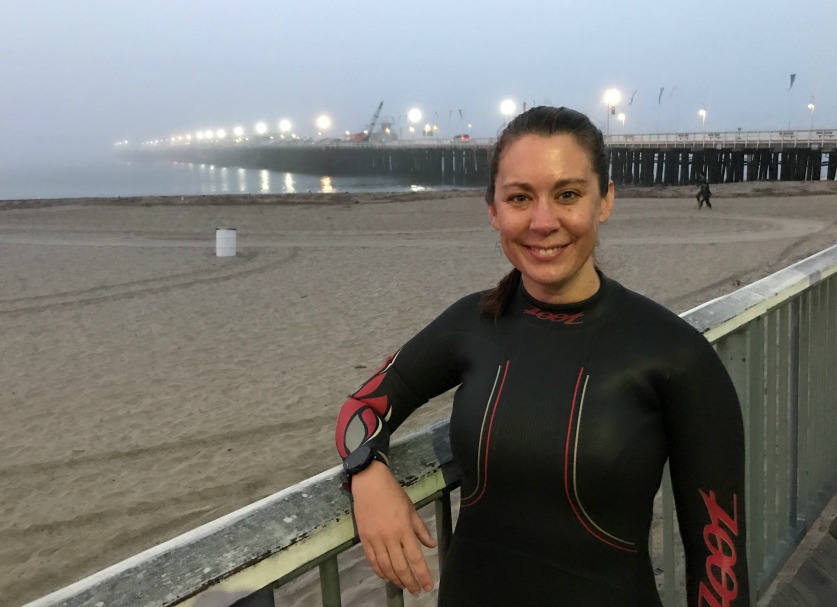 I wrote up a race recap the race details for those interested.
But here's a quick summary- I finished in 5 hours and 57 minutes. I didn't have a goal time in mind, but I'm thrilled with this finish, especially for my first Ironman 70.3 and second ever triathlon.
My time put me right in the middle of the pack for my age group and gender. I was 34th out of the 77 women that raced in the 35-39 age bracket. For overall women, I was 252nd out of 520.
But those are just the numbers.
The experience of calm I felt swimming in the Pacific Ocean was amazing.
The beauty I saw as I biked along Highway 1 was breathtaking. Seeing the ocean while you're among the redwoods is like biking through a movie.
And the run- well, it was my favorite part. I felt so light and full of energy as I ran along the California coastline.
The last quarter-mile of that half marathon was surreal.
So many people lined the streets cheering for each of the finishers.
Little kids held their hands out for high-fives as I started to make my turn towards the finish line. I high fived each and every one of them along the way, thanking them for cheering us all on. It felt amazing.
And no matter what, I will never, ever forget the tears in my husband's eyes as he hugged me right after I crossed the finish line. It was magical.
This whole experience happened because I stopped stressing and started making a stronger connection with The Universe.
It's something I do all the time now. While I'm training, at work, and with my family and friends.
I'm so grateful for my experiences this summer. I've learned more about myself than I have in years.
And my biggest takeaway, joy and beauty are unfolding all the time. When I stopped focusing on my worries and fears, I was blown away by the endless gifts each moment has to offer.