Easy and Healthy Chicken and Quinoa Bake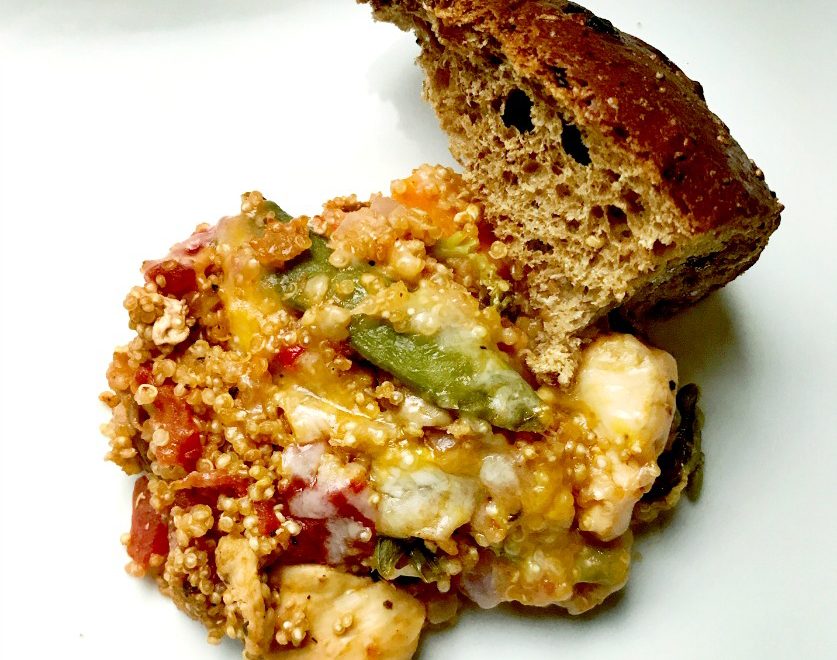 In my option a Monday dinner must be:
Fast
Easy
Foolproof
Otherwise, I have both a Mexican and Burger restaurant within a 2 minute walk from my house… And I'm in trouble.
I honestly don't mind Mondays. A fresh start to the week isn't a bad thing.
But I really don't think its the best day to testing my culinary skills either.
And thanks to this mindset, I came up with the Chicken and Quinoa Bake.
One sauce pan, use frozen veggies over fresh to speed up prep time, and CHEESE.
Because everyone needs some cheese in their life. Especially on Monday.
So get on your comfy clothes, put on some good music, and make this easy dish that is yummy, but takes zero brain power.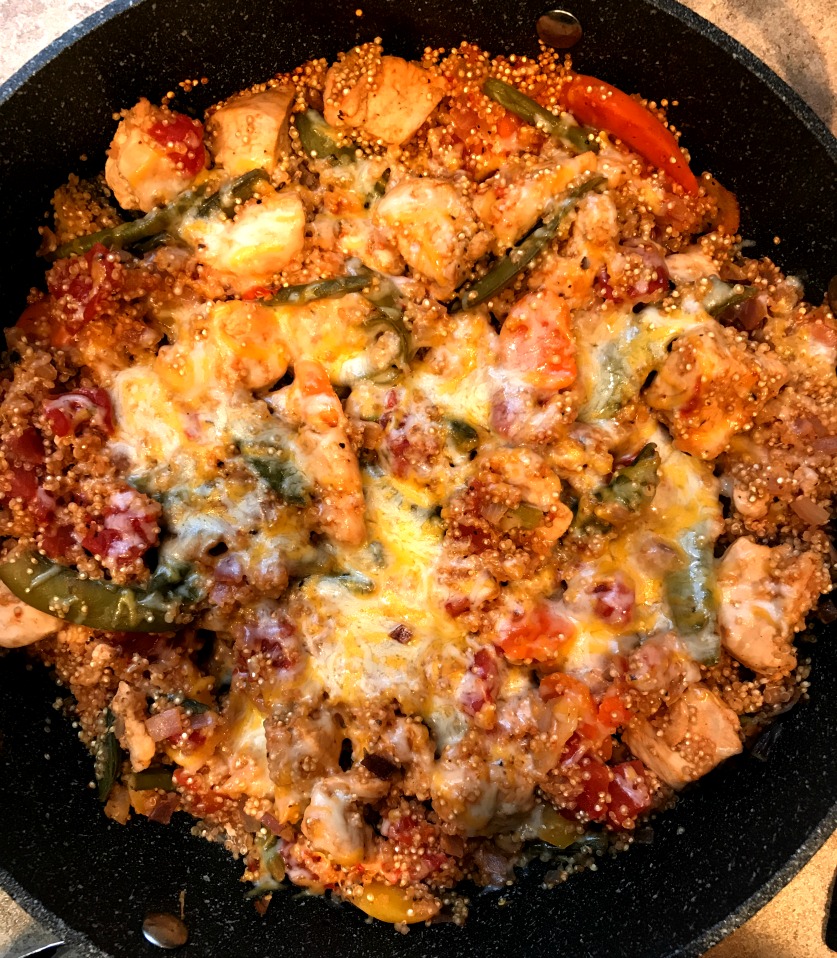 Ingredients
1 tablespoon olive oil
1 small red onion
2 cloves of garlic, crushed
1 pound boneless, skinless chicken breast, cut into 1-inch pieces
1 cup uncooked quinoa
2 cups of frozen vegetables (I use Costco's mixed veggies)
1 14 oz can of diced crushed tomatoes (I like Hunt's basil and garlic)
1 cup water
½ teaspoon salt
½ teaspoon black pepper
6 ounces cheddar, shredded (I use Kraft's Mexican blend)
Instructions
Heat the oil in a large skillet set over medium-high heat.
Add the onion and cook for 2 minutes or until tender.
Add the garlic, cook for another minute.
Add the chicken, frozen veggies, salt and pepper. Cook until browned 6-8 minutes, stirring occasionally.
Pour in the tomatoes, water; bring to a boil.
Stir in the quinoa; reduce heat to a simmer; cover and cook for 15 minutes or until quinoa is cooked and most of the liquid has evaporated (it should look thick and saucy).
Spread an even layer of cheese over the top of the skillet.
Melt cheese under the broiler for just 2-3 minutes or until bubbly and golden.
Serve immediately.
So good, full of protein, and a great way to start out the week!
Happy Monday All!